Advanced
Regular SMARTPAGES users can employ advanced search options by using the new SMART SEARCH function – situated on the right-hand-side of the main Toolbar.

With this handy short cut directory users can quickly locate any listed local business by:
– Category; or
– Business Name
Just start typing the category/name and SMARTSEARCH will AutoComplete for you.
Then simply select the correct entry and click the Smart Search button OR push the Enter/Return.
Note – categories appear first then companies are listed.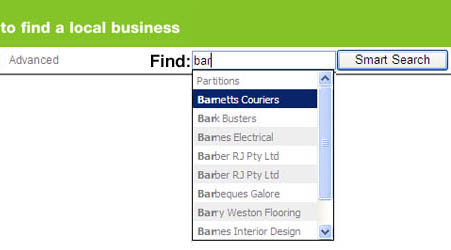 Extra Feature: The search function shows all listings which include but not necessarily start with the input letters e.g. If you enter the three letters 'bar' it will show the 'partitions' category before company names starting with 'bar' such as Barnetts. But after four letters 'Barn' Barnetts appear first.
Best results are achieved after four letters are entered.